Interview with Kees Aarts, founder and CEO of Protix
Tell us shortly about how you get involved in the edible insects world and how the Protix project began
When I was young I was already breeding insect and feeder animals for my reptiles and birds. I even did a 'backyard safari' several times to collect insects and log them in a book. I was always fascinated by the animal kingdom and especially insects. I think I have to blame David Attenborough as well who made the insect world even more fascinating with the movie 'Life in the undergrowth'.
I went to engineering school and studied aerospace engineering after which I worked at McKinsey for a few years. During my time at McKinsey I started thinking again about what really made my heart tick. During a diving trip in 2008 I again was frustrated about the way we treat our oceans and fish stocks. This was the moment where a few different things came together. The passion for nature, knowledge about farm life, the origins of our protein sources (amongst other fisheries) and ability to engineer solutions. So what could I do to ensure there are more fish to see in 20 years from now? That's the question that triggered me and somehow I started seeing a link between insects as an untapped protein source and the need for protein in our food and feed chain.
Back at the office, me and a colleague Tarique Arsiwalla, started brainstorming about the opportunities this idea could offer and what was needed to start a company with this idea. After several interviews and explorations we quit our job and Protix as a company was born. The insect sector was very closed back then. It was mainly focused on hobby pet supply and most breeders were already around for several years and rarely opened doors to one another. The field and concept of Edible insects was only entertained in the burroughs of science and artisan enthusiasts or experienced on Asian food markets. I believe it was really through the visionary leadership from people like Arnold van Huis, Robert Kok, Marcel Dicke, Paul VanTomme, Craig Sheppard, Larry Newton and others that stimulated people from outside the hobby pet sector to start looking at this opportunity, myself included. The reason for us to engage in this new sector was the opportunity and value add we could offer from a technical and business perspective. Our engineering and business background really helped over the last 7 years in closing deals, attracting investment funds, forging strong teams and developing scalable and controllable insect production technologies. This is how Protix was born.
What's your main market and your best-seller product?
Our main market currently is within the professional petfood and animal and fish feed additives. We produce insect protein meals and lipids from the black soldier fly and we produce them in steady predictable volumes at stable and high quality. Fully certified to the highest standards of GMP+ and SecureFeed (this includes the necessary HACCP analyses along every step of the process). We are making insect based ingredients available and affordable. We have built strong relationships with companies that use our product to develop unique product propositions in the market. Insect based nutrients are new to the world when it comes to large scale offering, understanding the functionalities, characteristics and applications. Through testing, research and market sounding we have found interesting market niches that in itself could already absorb 10.000's of tons over the next years. Our best seller products are our insect protein meal and lipids.
What's your yearly production (in tons)?
This question has been leading many discussions and interviews over the last years. I actually think it is no longer of interest and will not define the industry as a whole. We shouldn't be concerned on who has the biggest…production facility. The announcements of production capacities have really paralyzed many discussions. With all the promises made over the last 5-7 years by players within the insect business there have been positive reactions of interest but it has also led to the first disillusionment with potential customers and markets. And I have to admit, rightfully so. If you go online unkowningly curious, the sector already looks like it is producing hundreds of thousands of tons of insect based proteins and there are 100's of companies that have factories up and running. This concerns me as it's not reflecting reality. We have been getting questions from large companies lately asking about the industry capability to deliver. And that's a dangerous situation. As an industry we should learn from others like the Aquaculture industry, which is also a relatively young industry. It takes time and effort to create a solid industry with multiple quality suppliers. We should all take that time and deliver to our promises.
What's more important is the way insects are produced. There cannot be any compromise to safety and quality and the insect sector should embrace the frameworks that are there and go beyond. Setting standards on production is crucial. Think of standards on cleanliness principles or tracking&traceability. Insects are still livestock in a controlled environment but just in very large numbers with a high reproductivity. Those production environments should be cleanable in every way and every batch of product should always be traceable to every batch of insects, feed sources, production cycles and cleaning cycles. And this is just one of the things that spring to mind when I mean that the way we currently produce is more important than how much we produce. We believe that collaborating with authorities to set new standards is important. At Protix we regularly invite authorities to show our production systems and designs and cleaning protocols in order for them to identify the means and methods that can be formalized into standards that help protect this new industry from bad practices.
At Protix we take great care in what is produced and whether our customers get their product in time and at the right quality. That's key. And we're producing more every month, that's also key. We have a full scale facility operational now since october last year covering all aspects of the insect production chain, highly automated and controlled and with the highest standard of processing equipment. We currently have over 5 products commercially available in the speciality feed business and our demand is increasing strongly. We have pre-sold all our commercially available product for the next 2 years but reserve some product for curious new customers. For the next ramp-up in the Netherlands we are already pre-selling significant volumes which is a solid confirmation that the market is picking up strongly. The ingredient business itself is usually contracting on a quarterly or half yearly basis while new assets take around 12 months to realize. How much we exactly produce and will produce the next years is only important to our valued customer base. Perhaps others are producing much more, perhaps not. We do see a surprised person regularly when they walk around in our facility. We get regular confirmation that our production facility, scale and the level of automation along all facets of production are not seen before. That does give a certain level of satisfaction. But we will not be alone and I hope all our esteemed colleagues will enjoy the pleasure of running large scale insect operations. It's fun and insects are actually great animals to work with.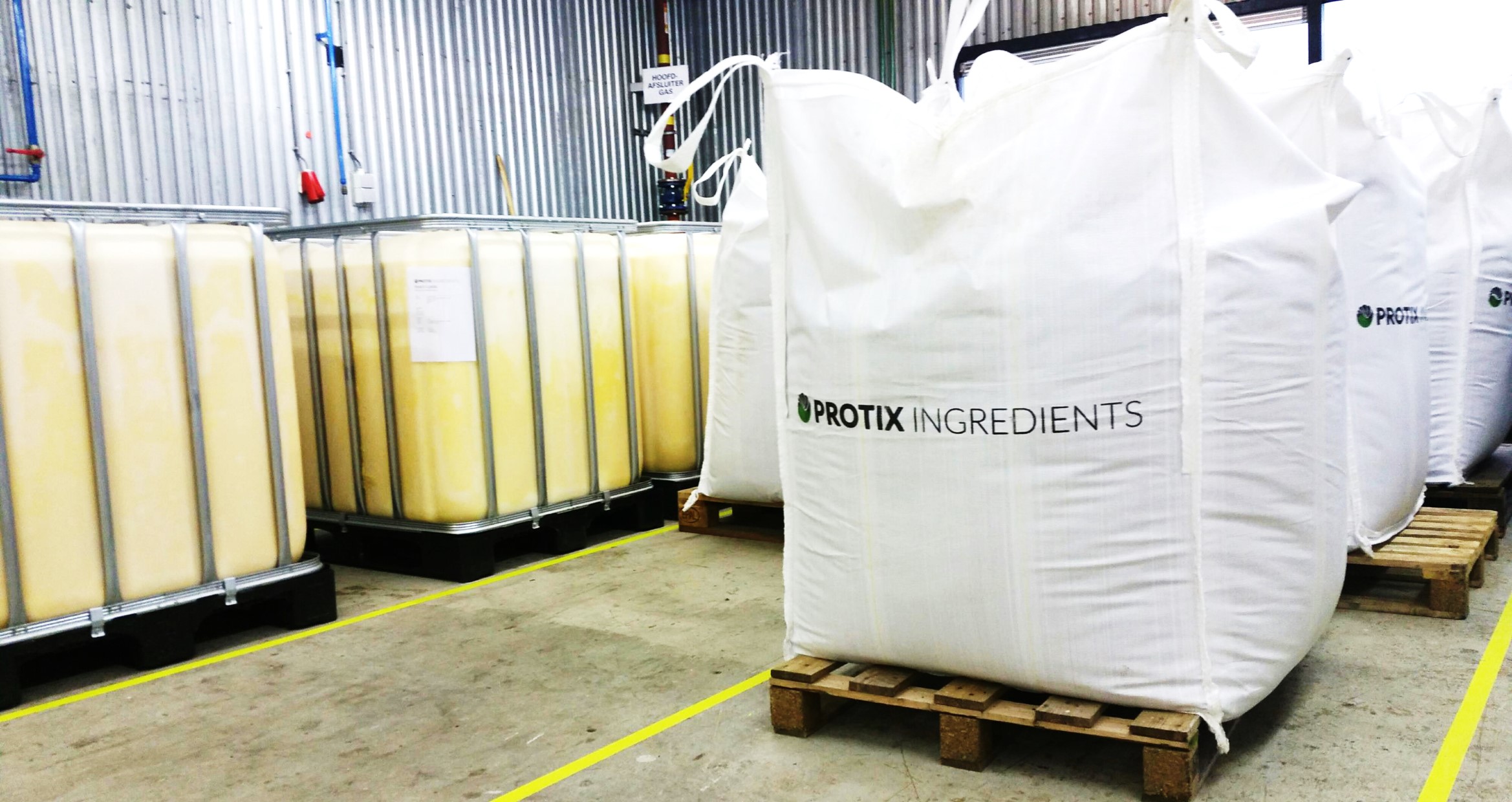 Considering the set of laws and the lower cost of human labour, do you think that eastern companies will always have an advantage in the market? What the european companies can do to bridge that gap? Is processes mechanization the answer?
I was in China last month for the World Economic Forum and did a small tour along companies in the feed business. I also visited several insect farms. Coming from the Netherlands this questions has always intrigued me because the answer is often very counter-intuitive. Did you know that in the Netherlands for instance we often produce pig meat cheaper than in China? Or that we produce more tomatoes per hectare per year than anywhere in the world? There are obviously 'Eastern market advantages' but they have so many angles that it is not simple to answer. It can be the legal framework, cultural heritage, efficiency, knowledge infrastructure, labor cost, material cost, logistics or simply climate environments that determine whether a 'country' or a 'region' has the best cards to harbour an industry. I don't see why one region would have some kind of structural advantage over the other when it comes to insects though.
I know that we have many benefits from being in the Netherlands and especially in the Brabant region. We have a long history in intensification of agriculture and livestock through knowledge, technology, operations and heritage. This intensification in farming and agriculture has led to highly efficient production chains at low cost. In my view this intensification has brought us both cheap food but also very undesirable side effects like manure spillover, animal welfare issues and negative environmental impact. A lot of the wealth in our region was created by these advancements and therefore we are also one of the first regions that experience the pains from that. The triple helix of government, industry and consumers really comes into play here. There are a lot of smart farmers that enjoy life, nature and innovation here in the Netherlands. All those stakeholders are very actively forging a roadmap of transition towards a low-footprint production chain with the highest standards of animal welfare and product quality. Insect production fits very well within this transition and given the infrastructure around us, the rate of development can be very high through collaboration and partnerships. We have a very clear production ramp-up agenda within the Netherlands to leverage that contextual benefit. From that we will also forge smart partnerships abroad for which we have many leads, several from the Asia region. Given the resource constraint I'm not sure when we will really capture that opportunity though. Perhaps someone out there has the perfect model in mind.
It seems that USA companies are speeding-up their development, is there a risk that they can "monopolize" the western market?
I hope all the announcements on speeding up are true and that they will be successful. I see mostly announcements in the food segments though which I don't really know about the hard facts like sales and consumer uptake. I do know that some of the products are very tasty, so that's good. Monopolization is a radical outcome that most likely will not be true I guess.
Do you think that a deeper regulation of the sector –as the EU is trying to do- will pay back in terms of quality and safety of the european insects-based products, with a positive impact on marketing results?
I'm a true believer in quality standards and I am a european by heart. However, we should never convince ourselves that it's 'The Government' who determines quality and safety. It's us, entrepreneurs, conscious citizens and responsible value driven producers that should safeguard quality and safety standards. The government is there to protect us as consumers from the ones that don't. Through embracement and collaboration with the governments we can ensure that there are less outliers that poison the waters. The problem however is that usually it takes only a few drops to do so. That's why Protix founded the IPIFF. In 2012 we were seeing too many conflicting messages that didn't help the sector moving forward. That's why together with our other esteemed colleagues like Ynsect, Agriprotein, Katz and Koppert we organized the first IPIFF meeting back in 2012. We sat down together and we didn't talk about our own business but about the responsibility we had to inform and educate the governments and public on this nascent industry and the products we aimed to produce. Only this way we could expect the regulations to be changed for the better. But still, the quality and safety of the products are in our own hands. The government is there to help through asking the right questions and formulate the rules of the game. The positive impacts on marketing results are collateral benefits in my view and will surely follow.

What's your opinion about the european companies' lobbing activity?
I think we are doing an excellent job. The air time we get with legislators is fairly large for the size of economic activity we represent. It's truly something to be proud of and it's a pure collaborative result. No impact on legislative level can be achieved single handedly. That's for sure.
Are edible insects as food and feed a concrete solution to fight hunger in underdeveloped countries?
I don't know. At least it is a solution that surely can be put to good use in fighting hunger. But there are many more solutions when it comes to that. Personally I always have mixed feelings when an innovation starts with 'this can fight hunger' or analogous to a technical innovation 'this can be used after earthquakes or tsunamis'. When solutions are used to fight hunger and they actually have impact it's usually because of the entrepreneur behind it that takes the relentless effort to move a solution to that region where hunger exists.
What role will human and animal entomophagy have in the western world?
That will have a huge role. Natural ingredients from Nature's most nutritious creatures will have mind boggling benefits for man and animal. The future of our nutrition is bright and insects will play an important role.