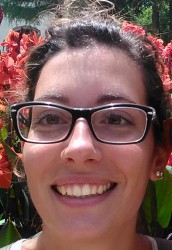 "No sensible person is interested in the flies, and above all, not the girls." – Fredrik Sjöberg (swedish writer, biologist and entomologist), Flugfällan (The Fly-Trap) Nya Doxa, 2004
My name is Michela Bertola , I am attending the last year of Veterinary Medicine and I like insects. So I think to be the exception to Sjöberg's steatment.
I am very interested in insects, they have many applications: starting from their role as bio-accumulators of chemicals, through degrading of waste from livestock farms, to their use as feed and food.
When Lorenzo Pezzato invited me to become part of the team at "L'entomofago" I was surprised and enthusiast. I hope to give a contribution to disclose more about entomophagy.
Michela Bertola