After the recent Efsa positive scientific opinion, yesterday spread the news that the Conference of States has given the definitive green light to the use of Tenebrio molitor as a food for humans.
In the historical session, the rules for the labeling of products edible insects based products were also deliberated, so now everything is ready for production and marketing.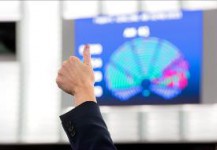 After years of waiting, the entrepreneurs of the sector express enormous satisfaction, aware that the real work now begins.
A few more weeks for the final bureaucratic details, then the insect-based products will be found on the shelves of supermarkets and shops.
Back to work, everyone!