The use of insects as a possible solution to reduce food waste and, at the same time, encourage the production of new materials useful to man. It is one of the examples of circular economy illustrated at the "Agroinsecta" conference held in Tortona, a moment of reflection on the experiments currently underway in the world of entomology.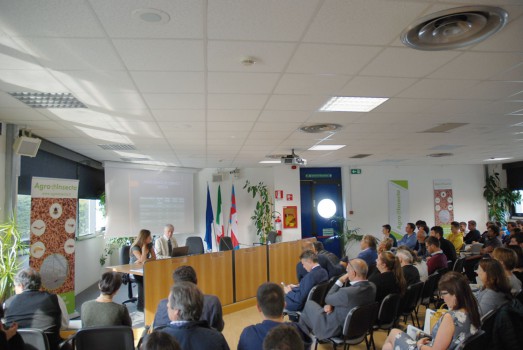 Numerous interventions, including Marco Meneguz of the University of Turin, who showed the results of breeding Hermetia illucens on different nutrient substrates. «The soldier fly (Black Soldier Fly) was studied for its ability to reduce large quantities of organic waste» said the researcher, «given its voracity, high sustainability, low water requirements and minimum emissions of greenhouse gases». Hermetia illucens is native to Central America and then spread to the temperate-warm areas of the world. It does not frequent domestic environments, does not feed, lives 1-2 weeks and its larva has a scavenger behavior, ie it feeds on organic material in a state of decomposition. It has been observed that nutrition and genetics have an almost equivalent influence on the growth of larvae for an overall proportion of 60 per cent. Other variables are humidity, ventilation and diet distribution. «The BSF larvae accumulate high amounts of nutrients during their growth and are appreciated for their potential to produce such things as protein flour or fat for livestock feed» says Meneguz, for whom Hermetia illucens farms are already a reality in the Netherlands and soon they will become a reality in Germany too, with a dedicated area of ​​20 thousand square meters.
A similar result was conducted by the study by Silvia Arnone of Enea, which focused on the bioconversion process of the sewage sludge of urban waste water mediated by the BSF larva. «Every year in Italy, from 3 to 4 million tons of residues from purification treatments are produced» says the scholar, «58.9 percent of which is recovered in agriculture as a fertilizer and composting, while the remaining 41.1 per one hundred must be disposed of, with a cost of up to 140 euros per ton». The sewage sludge of urban waste water consists almost two-thirds of an organic component, namely Forsu, the organic fraction of solid urban waste from recycling, and the remainder from minerals and metals contained in sewage, sludge and digestate which together they formed the feeding substrate of the larvae. The results of the study showed that the larvae accept the food substrate and, therefore, lead to an important reduction of the same. From grainy and bulky, this becomes finer and thinner and with a decidedly smaller volume and mass. «All this would allow to treat the sludge from wastewater in an ecological and economically advantageous way, re-using the decomposers to produce derivatives useful to man» states Arnone, «the prepupos have indeed a percentage of protein that fluctuates between 32 and 48 percent, making it attractive for feed flours. The rest is mostly made up of lipids, between 30 and 35 percent, from minerals and chitin, substances suitable for the creation of bioplastics, advanced biofuels and cosmetics and pharmaceutical products». Furthermore, through the process of bioconversion, dejections and residues are obtained which can have a high agronomic value if used as organic soil improvers to promote plant growth in agriculture or nursery gardening.
The conference was also attended by Lara Maistrello, Professor of the University of Modena and Reggio Emilia, who illustrated the results of "Valoribio", a multidisciplinary project on circular economy based on waste from the food chain. «In nature there is no waste and what for us humans is waste, for other organisms it is an excellent substrate on which to grow and thrive» the teacher begins, «insects occupy all ecological niches and it is precisely among dead plant or dead animals consumers that can be found the most unusual allies for man: those useful for making a circular economy». His research has also seen Hermetia illucens as protagonist, raised this time to lay eggs on a substrate of organic waste, chicken manure, water and zeolitite, a quarry waste. «In a heterogeneous organic substrate, the larvae transform it profoundly after 15-20 days of growth» says Maistrello, «by reducing odors, bacterial load and dry mass by 60 percent». The professor then lists the application uses of her research: «from lipids it is possible to obtain biodiesel, from chitin biomedical products and nutraceuticals, from bioplastic proteins that, by degrading, release nitrogen into the soil». Moreover, from the combination of lipids and proteins substances are obtained for agricultural uses with feed purposes and the substrate is transformed, combined with zeolitite, into high-performance compost, that is an organic soil residue useful for fertilizing plants.
An important contribution was finally brought by Ferdinando Baldacchino of Enea, who presented the results of his research, this time, on the Tenebrio molitor, the flour moth, bred on a substrate composed of by-products of the food industry. «The heterogeneity of the by-products leads to a different nutritional composition» says the researcher, so «their valorisation passes through the formulation of optimal diets, which allow to obtain final products enriched in nutraceutical substances». For Baldacchino, the flours produced by insects represent, for animal feed purposes, an alternative to soy flour in poultry feeding. However, it has been recalled, at the moment their use is allowed only for the feeding of fish species or for animals that do not enter the human food chain. «The development of industrial farms can enhance the by-products of the agri-food industry with a view to circular economy and produce alternative proteins, such as protein supplements, with less environmental impact than meat» says the scholar, according to whom «the problems related to industrial breeding concerns cannibalism, reduction of food efficiency and conversion, lower larval weight and less progeny per female».
These are encouraging results, especially with a view to a sustainable economy that respects the environment, that can recover and enhance human waste, making them efficient and low-cost products for different industrial processes.
Giuseppe Di Eugenio