Interview with Haz and Deano, The Boys at Short Horn
Hi guys, tell us how you get involved in the edible insects world
Well, first and foremost, we love our food – especially experimenting with different seasonings and flavours. But if you take the time to look at most store-bought spice mixes, they aren't actually very good for you. They're full of sugar, additives, anti-caking agents and other grim chemicals. So, we wanted to create a seasoning range that isn't just natural but also has a huge variety of health benefits as well. We knew that crickets were high in protein but, once we started researching them, we realised that they have so much more to offer us. The sheer amount of vitamins and minerals that crickets can provide is still relatively unknown in the West. So, we've now made it our mission to become the stepping stone brand that introduces the Western world to the benefits of entomophagy by making it easier than ever for people of all cooking abilities to sprinkle, rub and marinate more nutrition on every meal.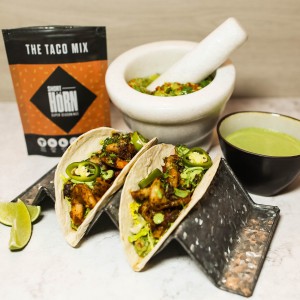 When did you realize that edible insects could also be a business?
So, between 2020 and 2027, the edible insect market is predicted to grow at a compound annual growth rate of 26.5% and is forecasted to be worth $4.63 bn by 2027, and $8bn by 2030. Not only that but it's expected to become the biggest growing sector, within the alternative protein sources market in the near future. People are waking up to the health and environmental benefits of entomophagy but it's just going to take brands like Short-Horn to ease the Western world into the concept, rather than expecting people to jump straight into eating whole insects.
You're marketing a very innovative version of a well-known traditional product, tell us about it
Thank you! In a nutshell, we blend cricket powder with hand toasted and ground spices to create seasonings that have a huge range of health benefits. All of our seasonings are lab tested and proven to be high in protein, high in iron, high in potassium, high in vitamin B12, high in fibre, a source of Omega-3 and they contain all nine essential amino acids too. This is all thanks to the fact that they're made up of 50% cricket powder.
Where do you get your insects from?
We work very closely with a cricket farm right here in the UK, which is great because it means that all of our crickets are 100% traceable. They're also processed in accordance with the latest guidance for producers of insects for human consumption as well.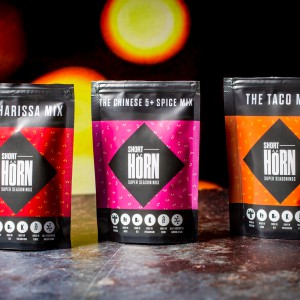 How do you see the development of your business in the next 3 years?
We've currently got three flavours for sale: The Taco Mix, The Harissa Mix and The Chinese 5+ Spice Mix, and we've also got two new flavours coming out in the next couple of months, ready for the BBQ season. We're aiming to have a total of ten mixes out by the end of the year and, really, we just want to keep growing our offering – there's just so many flavours to choose from! Realistically, though, the edible insect market has barely been touched in the Western world, so there are many opportunities to enhance nutrition across a variety of eating occasions. Over the next three years, we want to build consumer confidence in our products and the concept of entomophagy in general. This will enable us to really start innovating across a variety of different foods, knowing our customers will trust that what we're doing tastes amazing and is incredibly good for you as well!
Are you confident in the fact that we, as westerners, will be usual consumers of edible insects in general?
In a word, yes. It definitely feels like we're heading towards the tipping point. There's an undercurrent of noise around entomophagy that seems to be getting louder. With celebrities like Angelina Jolie, Zac Efron, Justin Timberlake and Salma Hayek coming out as part of the entomaph movement, awareness around the health and environmental benefits of edible insects is growing. In Canada and America, a variety of edible insect products are already being sold in supermarkets and, in the UK, Sainsbury's are pushing forward with their edible insect offering as well. Amazon has also just backed a company that creates crackers using crickets too. Ultimately, given that the global population is predicted to boom to around 9.7 billion people by 2050, current agricultural practices won't be able to support the growing demand for food. Farming insects takes much less space, feed and water than conventional animal farming and has a dramatically lower impact on the environment. In our opinion, entomophagy won't just become popular in the Western world. It will become a necessity.