Interview with James Caon, INEF founder
How did you start farming insects?
I started raising food insects on an amateur level mainly to meet the dietary needs of my reptiles.
In 2018 I decided to develop my hobby into a small business and opened my company, INEF, which stands for "Insect Novel Ecologic Food". I wanted to produce food insects for pet-food but I also had an eye on the future, and the goal of one day also serving the Novel Food market.
As I approached this sector, I realized the great potential of this innovative business model, which starts from eco-sustainability and low environmental impact and from producing a source of proteins for human nutrition that are an alternative to the traditional sources. So I began to study, and to keep up on, developments. Especially international ones, where this sector is at a more advanced stage.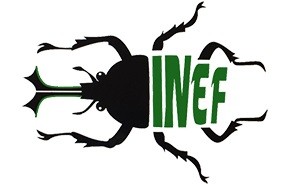 What kind of insects do you farm in INEF?
INEF is specialized in breeding virus-free certified food insects for terraristics (captive breeding of reptiles and amphibians), or for protein supplementation in the production of feed for conventional pets (dogs and cats), 'new pets' and farm animals. We are among the main producers of Flour Moths (Tenebrio molitor) in Italy. We also breed Crickets (Acheta domestica), Superworms (Zophobas morio) and Locusts (Schistocerca gregaria).
What are the main technical issues you come across?
Being a new and developing sector, there are no Italian companies with consolidated and reproducible business models. Insect farms still rely heavily on humans, and there are no specific directives for carrying out this type of work. All successes and failures derive from experimentation, study, research and a lot of initiative.
Healthcare regulations are constantly changing so it's important to keep up to date. Also, there are no specific regulations on breeding areas or on managing the healthiness of premises, so a key role is played by the experience and common sense of the breeders.
There are no specific rules on maintaining insect health, which is why it's necessary to use experts from the animal sector, biologists, biotechnicians or veterinarians, who assess correct feeding, the health of the insects, and undertake periodic checks and analyses. So you need to have a good spending budget and you must rely on reliable professionals.
The bureaucracy too is a sort of obstacle as the application procedures to obtain the required authorizations are often long, slowing down the production processes. A case in point is the implementation of the new EU regulation. It took three years to obtain approval to use the larvae of the Flour Moth (Tenebrio molitor) for human consumption.
Another difficulty I've experienced is the lack of specific technical equipment for this type of farming. I have had to personally adapt the equipment currently available on the market.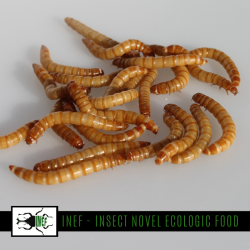 What do you think about insects as food for humans?
Insects are a source of protein, fibre, minerals (calcium and iron), vitamins B12 and omega 3, all of which provide nutrition that's essential for a healthy human diet. No hormones are used. The risk of transmission of infectious diseases from insects to humans is practically zero. There are clear advantages for the environment when with respect to intensive livestock farming. Insect farms have very low greenhouse gas emissions, produce less waste and water consumption is reduced.
So I believe that insects have all the prerequisites to become part of the human diet, both in terms of nutrition, as they are a healthy and an alternative source of protein and other nutrients, and in terms of environmental protection, as insect farming follows low-impact, eco-sustainable processes.
So are you also planning to farm edible insects for human consumption?
Farming edible insects for humans is one of the assumptions I looked at carefully when I decided to establish INEF. With this in mind, I have focussed on production, while waiting for developments on the scientific assessment by EFSA (European Food-Safety Authority).
The insects I farm are fed with healthy, organic and preferably zero-km products. I pay a lot of attention to: living facilities, substrate (using non-chemically treated products), cleanliness, and the correct management of temperature, humidity, ventilation and light so as to ensure the maximum well-being of the insects, reducing stress of any kind down to zero.
Following EFSA's recent approval of the consumption of Flour moth larvae (Tenebrio molitor), I have applied for the necessary permits, so that I will be able to also offer my insects to the human food market. This in the hope that the authorizations will also be extended to other types of insects that are not harmful to humans such as crickets (Acheta domestica).
How do you see your company in five years' time?
My goal is definitely to structure my company with one of the steps being to internalize the production of insect flours and/or powders in order to have more control over the production cycle that involves the use of my insects, and thereby increase my company's added value. I don't know exactly what INEF will look like in five years. I do hope to solve many professional challenges, acquire increasingly more technical skills, and to make an important contribution to the growth of my company! I'm all set to take up the challenge as I really believe in this project, which is bringing me a lot of gratification. Most importantly, I don't want to stop!