I interviewed Antonio and Giuseppe Bozzaotra, charismatic friulan twins that, near Padua, opened the farm "Edible Insects" in which they are raising many species of insects: crickets, bamboo larvae, silkworms, grasshoppers, beetles, wasps, scorpions and caimans.
They have been engaged in this area for years and have been invited to numerous television programs including "Italy's got talent", where Claudio Bisio has tasted their products in front of the whole Italy.
Where does this passion for insects come from?
When we were children our father used to take us in the countryside and this experience has left the love for the land, its products and its people.
We love the countryside, we pass in our fields most of the day and we relax during work.
We began cultivating mulberry trees, and we consequently raised also bugs and silk for the textile sector.
After numerous studies it has been found out that sericin contained in the chrysalis is useful to treat psoriasis and dermatitis and has been approved by the Ministry of Health as a medical device, and so now we work for the pharmaceutical industry.
The analysis also concerned the larva inside and found it has an excellent nutritional composition and the absence of pathogenic microorganisms.
From there we began also to breed other species of insects and we are doing nutritional and microbial analysis.
Can we trust in eating your insects?
Of course! We are followed by a biologist who performs self-control and in-depth analysis on the finished product.
We make sure that the food given to our insects are organic and untreated and if something is not right the whole game is thrown.
By now we have only seen that in people allergic to shellfish and mites can develop some sort of anaphylactic-inflammatory reaction after the consumption of insects but we always warn about this possibility.
What do your insects eat and how they are bred and processed?
We look for the biological plant sources, mulberry leaves for our bugs are not treated and we are careful in choosing areas in which we collect them, crickets on the other hand do not need anything because they live in the fields and feed on grass.
We seek the most eco and do not deal with chemicals.
By now laws about animal welfare during slaughter apply only to vertebrates, but we do not want to hurt more than it is necessary insects that we gave birth and brought up carefully, then stun them and make them fall into a state of numbness that occurs by soaking in water at 4°C before baking.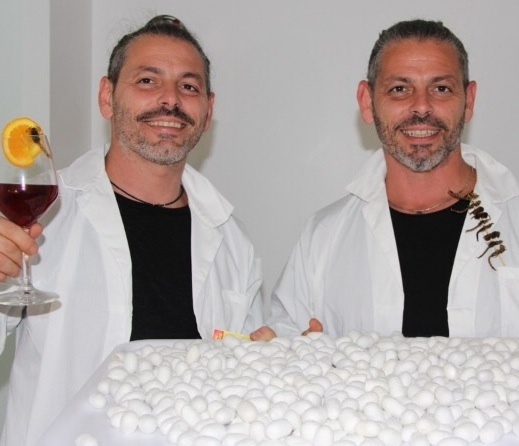 How do you deal with the current Italian legislation?
For now we are doing research in this field and we are getting better and better in order to be ready for it immediatly after the change of current laws.
Our source of profit relates now to the silkworm, and in fact in our business website online www.insetticommestibili.it you can find many insects and insect-based products but the shopping cart is not active.
We are afraid of a new intervention of the NAS (the Food Safety Authority), product seizure and sanction.
If I say 0434 Cafè, what would you say?
We dared and we were very lucky, the success has been undisputed!
Last month the owner of the club has decided to organize an unusual dinner based on insects and contacted us, we were a bit hesitant, but we accepted his offer because we want to spread this new food.
We are confident in the quality and safety of our products and have them combined with ingredients of our typical cuisine.
Children were the bravest, first tasted these tidbits and they really enjoyed them; after they tried to convince the parents to take a bite.
Eventually even the most skeptical have been overwhelmed by this novelty.
What's your biggest wish for the near future?
We would like to have really soon an whole-insect-chain EU regulation, enhancing those breeders using organic products to rear and have respect for the land. To be followed by the ASL would be very reassuring because it would provide an opportunity to ensure in an official way our product and have the assurance of being followed and protected by professionals.
We believe that insects breeding in our local economy can be an excellent source of employment for many people looking for a job in contact with nature, respecting the environment and promoting the territory.