How did you first came in contact with the edible insects issue?
It was 10 years ago. I was in Thailand for a trip. When I travel, I like to follow the old saying "When in Rome, do as Romans do" which means you have to try the local lifestyle… in Thailand, the local life-style is to eat edible insects! That was the begining!
When that "contact" become a concrete business idea?
I came back in France 10 years ago and would like to share this experience with friends. It was impossible: ten years ago we were a few to be interested by edible insects (only my friend Bruno Comby and me). I had to ask a friend/colleague who was in Thailand to send me a few edible insects here in France. It was the beginning of the business idea, and I created Insectescomestibles.fr.
Where do you rear your insects?
Because of the company story, a big part of edible insects are from Thailand (we have our own farm now). But I work with Africa, China and South America. My aim is to show insects specialities from the world to people and help them to like it!
Are you planning to open an insect farm also in France?
Why not… but first of all, my goal is to enhance existing specialities from countries which eat and farm edible insects from centuries. But we know, we have to help in the building of the new generation farmers here in Europe that is why we are working with french and UE farmers to grow our range with edible insects from France/UE. This range will be very "local", with traditional seasoning or creative recipes and will be available in January 2016.
What's actually your main market?
Our main market is the European market but with have retailers in Canada, Russia and USA!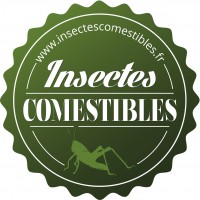 How is the edible insects market growing in France?
Whereas at the beginning of Insectescomestibles.fr I was alone, I am now in charge of 10 people in France, Belgium and United Kingdom. The farm in Thailand is growing and we are now 7/8 people. A few new brands arrived from 2/3 years feeling the trend but Insectescomestibles.fr and its brands stay number one in Europe.
Will entomophagy be normally practiced in Europe in ten years?
Insectescomestibles exists from 2009 and I can feel the difference between 2009 and now.
I am sure entomophagy will be normally practiced in Europe but with different/special ways: for example, french people could seasoning crickets with cheese, in Spain edible insects will be on tapas… each country has its preferences. I am sure European countries will be able to create their own recipes/ways to use edible insects in their kitchen.