CELEBRITIES AND ENTOMOPHAGY: THE MOST FAMOUS AMBASSADORS OF EDIBLE INSECTS,
WHEN THE JET SET OPENS TO THE INSECTS TO EAT
Those who we often consider extravagances are sometimes macro-trends in the process of affirmation. In this, celebrities are often the best trend-setters: whether it's vanity or need to feed their public image or moreover an ethical position, different public figures of worldwide fame have chosen to embrace our friends with an exoskeleton on their tables.
And if a star can put aside reticence, so used to starred restaurants and very traditional gourmet courses, why don't you overcome your initial skepticism? Here's a bunch of
convinced eaters coming directly to Hollywood's red carpet.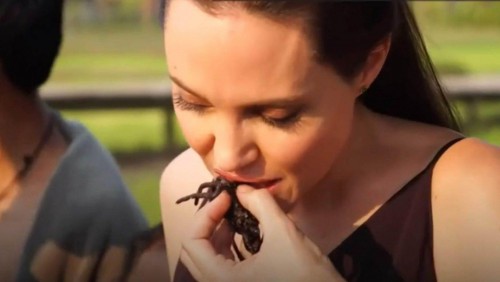 ANGELINA JOLIE STRUCK BY GRASSHOPPERS AND SCORPIONS OF THE FAR EAST.
"Ah, and there's also delicious tarantulas and exquisite scorpios. Sure, scorpions are a bit rough to chew but can you stand the goodness? And there's also grasshoppers, what a joy!
With two sips of beer they go right through you, golden and crispy like chips!"
Yes, these words really came out of the mouth of Angelina Jolie, mith, icon, champion of feminine beauty.
During the trip in Cambogia, the ex Catwoman was filmed by BBC cooking tarantulas and scorpions, giving advice on how to overcome the initial reluctance and then searching for strong flavors. The recipe: start with grasshoppers, ideal as a snack with a beer. Everything only shared with the international public, but even with her children by her side because education starts at home. We are delighted seeing this much courage and enterprising, Worthy of a strong-willed woman like Jolie.
LOVING INSECTS MEANS TO SHARE THEM: JUSTIN TIMBERLAKE AND HIS UNIQUE GALA DINNERS
The American singer and actor is widely known as a frequent visitor of the Noma of Copenhagen, a place of worship of the starred entomophagy and of his eclectic friend René Redzepi. Here was probably born, in Timberlake's head, the intention to involve Redzepi in the preparation of some exclusive private dinners. Like the one in 2018 at the launch of his last album. On the table, ants, black garlic with rose oil and danish pancakes with grasshoppers. We can only be happy of the interest of such a famous ambassador, even able to involve in his mission a great chef.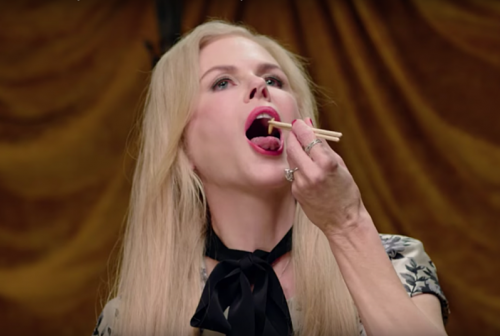 NIKOLE KIDMAN, GREDDY INSECTS AMBASSADOR EVEN IN FRONT OF VANITY FAIR
An elegant gala dress, heavy brocade curtains and courses worthy of Olimpo's banquet. The guest deserves that much splendor knowing it's just Nicole Kidman, beauty without time and actress who doesn't need any presentation. Nicole Kidman is so in love with insects that she has taken part of the collaboration campaign with Vanity Fair where she tastes grasshoppers, larvae and moths. The leading actress of Eyes Wide Shut declares that she's part of the entomophagy for ethical and environmental reasons and sustains that right now insects fend two billions stomachs all over the world. Our isn't so special or different from the others, Nicole says.
Wanna try edible insects? Clic here
THE GORDON RAMSAY THAT YOU DON'T EXPECT
Even him, the most uncompromising and famous chef of the world, eventually gave in.
Love, as in certain ancient fairy tales, is born far far away where we already talked before: Cambogia, which is the place of entomophagic illumination.
Here, along with larvaes, he discovered one of the place's specialties: the tarantula. In this video you can find more details about his culinary adventure in South East Asia.