Tell us how you got involved in the edible insects world
Several years ago, I traveled around Southeast Asia and became intrigued by the street food I came across. I tried fried crickets, scorpions, mealworms … in Asia, insects are commonly served up as snacks. Also spending time in South Korea, where boiled silkworm larvae and roasted crickets are common street food. So I was open to trying other insects.
I really got interested in the idea of edible insects when I read the FAO report on the subject from 2015. We're expecting the Earth to be populated by 9 billion people by 2050, and protein will be scarce if we don't actively take action to find alternative sources. Insects are amazingly high in protein and other nutrients and are much more sustainable than other animal protein, and could be the answer to feeding our growing population.
Crickets have one of the highest protein levels and are filled with so many valuable nutrients – much healthier than meat! They're also very delicious and their tamed nature makes them suitable sustainable farming. Eventually, few close friends representing 4 different countries gathered and started Biobug in Bali, Indonesia, to produce world-class quality cricket products.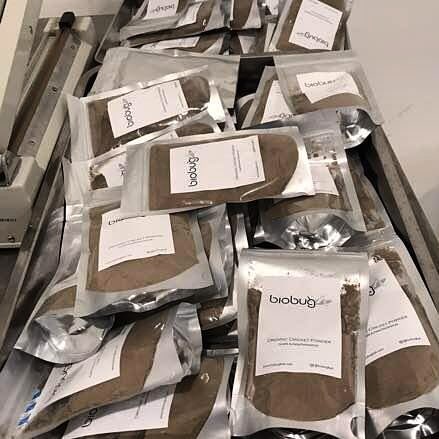 What products are you marketing at the moment?
Currently we have dried whole crickets, premium cricket powder for human consumption and frozen cricket paste for pet food products. We will be introducing our micro-mesh super premium powder later this year, which will be fully soluble and may add many new applications to cricket power, such as drinks like tea, coffee, and even water!
Our products are made from house crickets (Acheta Domesticus), which are superior in taste and nutrition compared to other cricket species and native to Southeast Asia. However, they are high maintenance; they're quite sensitive to surrounding elements and thus require more care.
What's unique about Biobug's premium cricket powder is that we use a processing method that allows us to produce an odor-free, mild-tasting, all natural product that can enhance any food products. Companies like using our powder because of its neutral taste and odor, and can go well with other flavors and seasonings.
Do you need any special authorization to deal with edible insects?
Yes. Like other food products, our farm and crickets need to pass different specifications and authorizations for handling and distributing. We've been approved by our local FDA, been lab tested, and have met the global standards for other food industry certifications.
We also grow our crickets under organic conditions, and are in the process for pursuing certification.

Is the market growing fast enough in relation to your business needs?
The market is actually growing a lot faster than the supply can meet at the moment. It takes roughly 5 weeks for full cycle from eggs to harvest, and the average lead time at most farms is more than 2 months! Biobug is trying to alleviate this supply bottleneck, offering 2-week lead time for our partners.
What is possible to do to accelerate the consumers' acceptance?
Awareness. In the past, serving lobsters to prisoners more than 3 times a week was considered cruel and inhumane! I hope soon, the world will accept insects as delicious and healthy food item as raw fish and crustaceans are today. Taste is definitely an important issue. It is food, after all! Currently, not all cricket powders taste the same. Producers must focus on the taste aspects of the product as well as, just aesthetics. I think once people become more aware of the benefits, and coupled with great taste, I'm sure we'll convert them in becoming life-long entomophagists.
What are your plans for the next two years?
Biobug originally started with the goal of contributing to cultivating alternative protein sources that would take less of a toll on our environment. We will find strength in numbers, and will continue to supply many courageous 'buggy' startups spread the goodness. Hopefully, together we can help in the global effort of making entomophagy a mainstream practice.