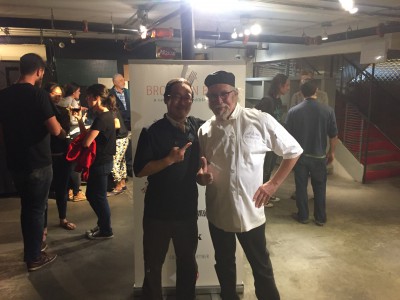 The first-ever Brooklyn Bugs Festival was launched over the Labor Day weekend, September 1, 2 and 3, 2017, in Brooklyn, New York. This gala event offered a wealth of opportunities to share in the joys of entomophagy on its simplest and most sophisticated scales.
The entire fest was the brainchild of Chef Joseph Yoon. A comparative newcomer to the bug cooking scene, Yoon earned his stripes over the three-day weekend, which culminated with an unforgettable nine-course bug banquet that he orchestrated.
The festivities started on Friday with a mini-symposium, featuring successive presentations on topics of broad interest, from marketing bug-based food products to the secrets of successful insect farming. In between talks and throughout lunch and dinner, attendees, presenters and the press mingled freely. Friday's lunch and dinner were served buffet-style, coordinated by Chef Yoon and his assistant Karla Calderon. Especially pleasing was the Italian-themed dinner, made memorable by One Hop Kitchen, which generously donated the bolognese sauce made with mealworms.
Saturday's open-air market of bug products let vendors interact with the innately curious public. An estimated 200 people wandered around the patio of TBD Brooklyn, a popular eatery in the nearby Greenpoint neighborhood. All-ages outreach was provided by Little Herds' Robert Nathan Allen and the amazing Entomophatron, an invention of artist Trina Chiasson and entomologist James Ricci. Built to resemble a 1950s diner, the Entomophatron hosted cockroach races, an insect petting zoo, and ongoing bug tasting parties for the kids in the crowd.
This correspondent's lofty expectations for Saturday night's bug banquet were greatly exceeded by the evening's fare: June Bug Fritters as appetizers, followed by Gusano Worm & Sea Bass Crudo, Scorpion Sushi Roll, Black Ants & Seared Shrimp, Locust Arugula Salad and more.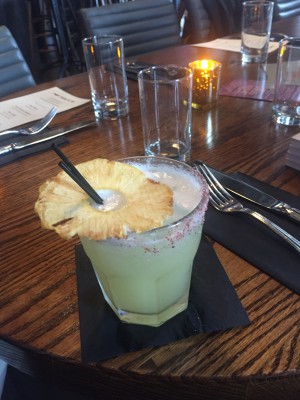 Brooklyn Bugs concluded on Sunday at the upscale Guadalupe Inn with a brunch hosted by Merci Mercado, distributor of chapulines  (roasted grasshoppers) and chinicules (red agave worms) from Oaxaca, Mexico. The bug-intensive menu, combined with a habanero-infused pineapple margarita, pretty much made this correspondent's morning. It had been a wonderful three days.
Chef Yoon is already planning next year's Brooklyn Bugs event. For more information on the festival, contact Yoon.
David G. Gordon – The Bug Chef