Recent studies suggest that the request of animal food will increase by 70-80% until 2050 (FAO 2013). Moreover climate change will have a negative impact in agriculture, livestock breeding and fishing.  All this will bring a growing competition for natural resources which will become more and more limited in the next years. So it's necessary a deep change in natural resources management, to use them in the best way. The purpose is to produce more food with more sustainable systems, reducing environmental impacts and greenhouse effect.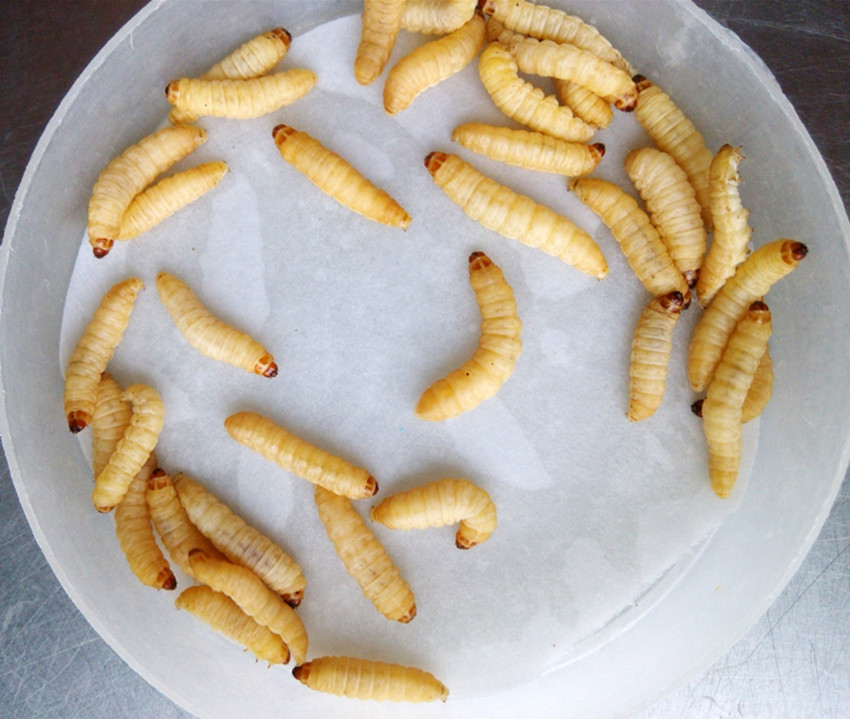 International scientific community need a challenge, we need to find a new system to produce food that must be safe, sufficient and decent for every human being. And a possible alternative might be given by edible insects.
Western countries' attention in insects as food and feed is growing, considering them interesting mostly for their high protein content, as emphasized during EXPO 2015.
In 1885, Vincent M. Holt, a passionate english entomophagist, wrote a book which title was provocative: "Why not eat insects?". In this book he wonders why modern society is so determinate not to consider insects, today listed as "Novel Food", a food source.
The author argues logically his point of view and tries to shoot down prejudices. He starts comparing this kind of food to other, explaining insects are made of the same substance of meat, eel (called sea-scavenger), or octopus, squid, oysters and the "dirty" pig. And he wonders which is the problem with the disgust-factor when it comes to eat insects. Often considered destructive to agriculture, insects may be consumed to solve undernourishment problems around the world.
According to FAO, more than two billion people in the world eat insects (Fao 2013 "Edible Insect, future prospects for food and feed security"). This habit is mainly practiced in rural areas where there's a lack of natural resources, like Africa, South America or Asia.
Actually this is not the whole truth. One of the most common misconceptions about people who eat insects is that they have this habit just because they need it. Contrary to what we might think, there are countries such as China, Japan, Thailand, Cambodia, Mexico, where insects are considered "tasty", real delights, for example the Mexican ants "eggs" (actually they are pupae) called "Aztec caviar". Not everyone knows that there is a traditional italian cheese "Casu Marzu" (mostly produced in Sardinia) which is colonized fly larvae (Piophilia casei) and cannot being sold.
Now, in this article we'll not talk about nutritional aspects, which are studied in depth in the scientific literature, but: is edible insects breeding convenient at an industrial scale? Can insects farming be competitive with the market prices of other livestocks?
Edible insects farming is a fairly recent practice, this because insects were always caught into the wild (Cappellozza, 2010). Nowadays, very few edible insects farms can be considered in an "industrial scale". In order to be defined as farming-factory, they must adopt standards based on daily production, mechanization and costs reduction.
Contrary to popular belief, the production chain of edible insects in an industrial scale is today very expensive. Meuwissen (2011) assessed the larvae's production chain of Tenebrio molitor (Coleoptera, Tenebrionidae) costs five times more than chicken's.
The choice of insect species to breed takes an important role to determinate the beginning of an industrial breeding project. Indeed the selected insects species must fit to fundamental requirements (Kok, 1983; Gon e Price, 1984) such as having a group social structure, and eventually the possibility of living together with other insects species; they cannot be neither intraspecific nor interspecific competitive and they cannot show cannibalism; from a nutritional point of view, they must be fed with easy-to-find food.
There are many considerations to do about the farming-environment, because it's crucial for insects welfare, but also for productivity and the reproduction-rate. For example, if we consider just one of these enviromental-factors as relative humidity, we realize that it's not sufficient to check the environment humidity, but it's essential inspecting also the substrate. Moreover, there may be different effects depending on the insects' growth-stage,  and often in the same farming-environment we've insects that are in different stages of their life cycle. Similar considerations for temperature, photoperiod, intensity and wavelength of  light sources, air contamination. Human labour it's also basic for breeding since it concerns specific cares for every action/operation, for the ability to respond to unexpected situations, for identifying appropriate strategies and hygiene/quality standards. The breeding structure could show critical points workers will have to take care of.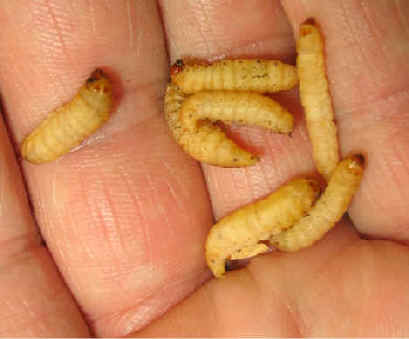 Starting from these assumptions, the department of Agricultural Sciences of Bologna, at the Entomology Lab of DipSa, wanted to make a first valuation of production costs of an edible insect, in this case Galleria Mellonella, studying the breeding/production chain. Galleria Mellonella (Lepidoptera Pyralidae), also known as honey-moth, is a lepidopteron whose larvae dig tunnels in domestic-bee honeycombs to eat honey and wax; this is the reason why these larvae are dangerous and could cause beekeepers huge economic damages.
The larvae grow to 3 centimeters at maximum. Their bodies become white, with a brown head. Thy are a real treat for other insects thanks to the sweet taste given by the honey-based diet. The adults are brown-grey moths with a 1,5 cm wingspan. The females lay eggs inside beehives to ensure honey and wax to the next generation.
Breeding  G. Mellonella might be sustainable both from environmental and sanitary points of view, also because this kind of insect needs very few water in its life-cycle, and so it's less susceptible to alteration by molds and bacteria. We could even say that minimized use of water is a competitive breeding-advantage. Furthermore, if compared with other livestocks (pigs, cattle, poultry), breeding insects lead to lower emissions of greenhouse gasses.
But what about costs to breed G. Mellonella?
The research results were calculated in order to obtain the production-cost of 1kg of G. Mellonella larvae.
The total cost obtained was 52,6 €/kg. That's high enough. However we should remember that the artificial diet, developed at the Entomology Lab of DipSa, was expensive because natural and artificial additives free. The artificial diet used to feed G. Mellonella larvae was developed by Campadelli (1986).
The small-scale breeding led to a pretty high cost per kilo. But it may be lower when the production will be on an industrial scale. It is reasonable to obtain lower costs also using less valuable products in the diet, without compromising the larvae quality. Obviously, some ingredients weigh more on the final cost per kilo. Among the most expensive ingredients there are milk powder, the italian raw wax and "millefiori" honey. Another heavy cost is given by the human-labour (about 80%), also because highly-qualified workers are needed. But this cost could be lowered too if the production will reach an industrial scale whit a good mechanization grade.
On the other side, fixed costs have little relevance because less than 1€. This aspect is certainly interesting from a business perspective. It is to point up that these costs were calculated considering the actual hours of equipments-use but not the ones related to external effects, health/ethical/environmental aspects, which are of great interest if we think about current issues like sustainable food-production and climate change.