Interview with Cedric Auriol, Ceo at Micronutris
Tell us about your first steps into the edible insects world. How did you decide to be an entrepreneur in the edible insects industry?
The first idea came in 2011 after the reading of a FAO report (Food and Agriculture Organization of the United Nations), which prescribes entomophagy since 2003, notably to fight economical and ecological issues of our century.
I immediatly get fascinated by this topic and I saw edible insects as a very promising sector to explore.
Knowing that before 2050 we will count around 9 billion human beings on Earth, and that in parallel the food production for our consumption has a destructive impact on the environment (diminishing sources of clean water, greenhouse gases, missing arable lands, etc), the use of insects as food could have many environmental, health and social/livelihood benefits.
Edible insects appeared to me as a serious alternative protein source, respectful of the environment, but also challenging in a place like France to start, where the gastronomy could be considered as a religion 😉
To start Micronutris, I constituted a team of talented people from diverse background: Biologist, food scientist, food engineer, entomologist…
What are the products Micronutris is acutally marketing?
Micronutris has the ambition of educating people about insects and their consumption, and to de-dramatise entomophagy in Europe where it is not (yet) a common practice.
In order to answer this demand, we decided to create products as biscuits or pasta, made from mealworms powder, enabling curious ones to taste insects without seeing them as a whole. It can represent a first step for skittish consumers.
But for adventurous or curious people we are also marketing delicacies made with whole insects like chocolates, pralines or appetizers
Where do you buy your insects?
We don't buy our insects, we proudly breed them ourselves near Toulouse in the South of France. In fact, our farm is completely dedicated to human consumption and is ISO 22000 certified (world premiere). We breed two species of insects: crickets and mealworms. They are fed only with organic feed.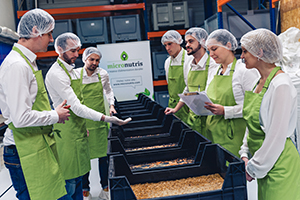 What's your "best seller" product?
Our best seller products are our dehydrated flavoured whole insects, used as appetizers, or to accompany and season dishes, as salads, quiches or desserts. People are more and more curious about edible insects, and they are mainly attracted to those products because they represent a challenge for themselves.
The product range includes unflavoured crickets and mealworms, six different flavoured mealworms (tapas, thyme, salsa, curry, vegetable cocktail and pop corn), and a mix of mealworms and crickets with barbecue flavour, one of our most appreciated product.
What's actually your main market?
At the moment, delicatessens and organic shops throughout France, and in several European countries.
Due to the Novel Food normative, the european companies are in late if compared to those operating in the USA or in Thailand for example. Do you think this is the problem?
Obviously the slowness of the European institutions and member states administrations is not helpfull for the new companies going to this market. But definitely it is important to have a clear regulation in order to ensure as much safety as possible to the final consumers.
Because of the administrative mess of the previous years, we decided at Micronutris to work on our own to pass ISO 22000 certification in order to ensure to our consumers the best edible insects and to show to the administration it is possible to have a high standard quality approach in the edible insects field.
We are very proud to be the 1st company worlwide in the edible insect sector to pass such a certification.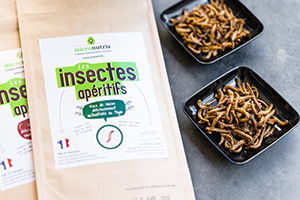 As entrepreneur in the edible insects market, what would you ask first to the European Institutions?
I consider the Regulation (EU) 2015/2283 of the European Parliament is the missing link the pioneer of the sector like Micronutris was expecting. But even with this clear new regulation the rules of the game are not the same in every member states. So my concern is if we consider the European market as a common market we should give the same rules of the game to all the players which is not currently the case.
Will entomophagy be normally practiced in Europe in ten years?
Eating sustainable edible insects as a new source of proteins is a responsible act. Everyday, people are feeling more and more concerned by environmental issues.
At Micronutris, we believe that entomophagy will be something usual in Europe in less than a decade, we can think about how the sushi came to Europe and for those who love history I let you research how potatoes came to the European Market.