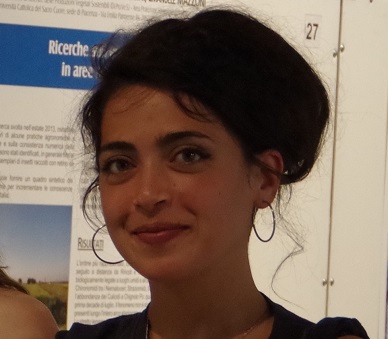 Entomophagy is currently a hot topic on newspapers and the media, especially after January 1st 2018, when the European Parliament approved the Regulation 2015/2283, in which the entire category of insects ("food consisting of, isolated from or produced from animals or their parts") was formally included among Novel foods.
After one year of research about entomophagy in Mexico – considered as the country with the highest variety of edible insects species (549 in FAO, 2013) – I decided, once back in Italy, to deepen my experience with entomophagy by taking part to an Entoexperience. This is an edible insects dinner organized by the cultural association Entonote, the first Italian organization that begun to divulgate the use of insects cuisine.
Giulia Maffei, biologist and scientific divulgator, and Giulia Tacchini, food designer, founded
Entonote
in 2015.
THE INTERVIEW
Why did you decide to dedicate yourselves to entomophagy?
Giulia Tacchini: I started to get interested in edible insects after reading the Food and Agriculture Organization (FAO) document of 2013. However, I started after participating to a conference in Turin in which the theme was debated. Therefore, we [Giulia Maffai and I) both decided to gauge more insights in the topic: we met and cofounded the association Entonote, thus becoming the pioneers of communication about entomophagy in Italy.
What is your personal opinion about insect consumption?
First, we think that if 80% of food cultures worldwide eat insects, maybe it is not so strange to do that; in turn, it is quite weird the fact that we have not accepted to introduce them into our diet yet.
Moreover, irrespective of enjoying or not this idea, we must be conscious of the two enormous potentials represented by insect consumption: the one of environmental sustainability (they have a low environmental impact in terms of use of water, energy, space, and of greenhouse gas emissions); and the one of nutritional value (they are very rich in proteins, B vitamins, minerals, …).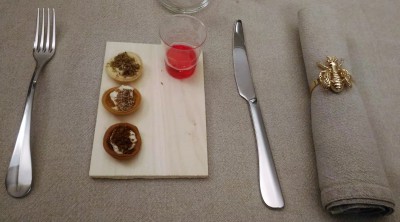 What is the average profile of the person who takes part to your dinners? With all this talk about insects, has the participation to your events increased?
We don't usually ask how old the participants are, but we can say that most are in a range between the 18 and 40 years old. The audience has significantly increased thanks to the word of mouth among people and also thanks to the media that have discussed more and more this theme, raising curiosity and interest>>.
Did the approval of Regulation 2015/2283 change anything for your activity? That is to say, besides as cultural association, has your work in conferences, classes and degustation become easier?
<<For the Entonote association, this news did not change things considerably. In general, the situation is very complex from a legal point of view: if you want to obtain permission to commercialize a food product containing edible insects, the procedure is expensive in terms of time and money. We should be patient and wait for new revisions of the Regulation. Currently in Italy, it isn't possible to add edible insects in the menu of a restaurant.
As you said, it is not possible to sell insects in Italy, nor to utilize them in a restaurant. But The media has talked a lot about "Edible insects on your plate since January 1st 2018!". As communicators, what do you think about the scientific dissemination done until now about entomophagy?
Unfortunately, the news stories that we can read on social media, newspapers and magazines are often poorly detailed and not very reliable. We live in a world in which information travels very quickly and the media must create sensationalism and curiosity. Luckily, not much is needed to get properly informed and to gather reliable information from scientific publications. Even if, at times, incorrect data are spread, we are excited about the great debate around this theme. Now, our mission is to help people become aware of the terrific insects' ecological and nutritional values, as well as their incredible tastes.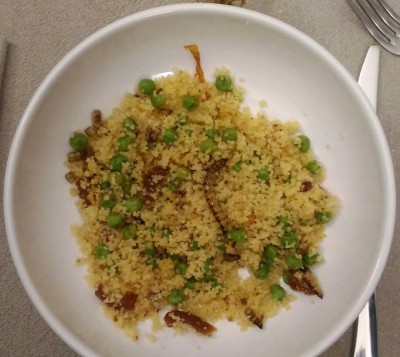 THE MENU
STARTER
Crackers with tofu cream and insect flours
MAIN COURSES
-Couscous with vegetables and the larvae of Zophobas morio, commonly known as Superworms
-Locusts with greens and fried egg
DESSERT
Galleria mellonella (wax moth) larvae and a choco crispy made of Tenebrio molitor (yellow mealworm) larvae
CONCLUSIONS
This was my experience with the entomophagy proposed by Entonote. It was certainly an important and inspiring opportunity.  It also a confirmed for me that insect consumption represents an economic, ecologic and nutritional resource that is essential for our planet's fast-growing human population.
Climate change and global warming are not just something we merely hear about, but constitute a tangible problem that everyone confronts every day. One of the main causes of global warming are greenhouse gas emissions deriving from intensive livestock rearing. The introduction of insects in human diet as sources of proteins can constitute a valid way to address this problem.
In addition to this, there are many reasons for eating insects, and Entonote's dinner shows us how delicious and unique insects can be!
Maria Clemente