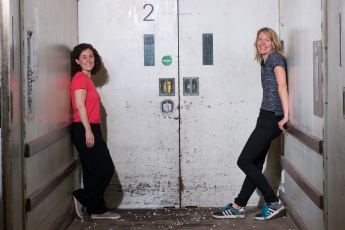 Interview with Véronique Glorieux, cofounder at Eat Small
Tell us how you got involved in the edible insects world
In January 2017 Gema – second cofounder of Eat Small – and I read an article about Canadiens that were farming edible crickets.. It was telling how incredibly nutritious and environment-friendly these crickets were, and how they could be among the best options to address one of the biggest 21st century challenge: supply quality and sustainable protein to feed a continuously growing human population. We started to read more and more about edible insects and it wasn't difficult to realize that they would soon be part of our normal occidental diet – just like as in many other parts of the world.
Why did you decide to bet on petfood?
I am a Canadian board-certified veterinarian for pets expatriated in Berlin. Cats and dogs were my patients for 10 years and I know their physiology perfectly. Edible insects in pet food make a lot of sense. Species like crickets or Hermetia Illucens larvae (this is the one we use) contain up to twice as much proteins, iron, calcium and similar levels of B12 vitamin and other minerals as found in meat. They are highly digestible, tasty, hypoallergenic (important for pets with food allergies), contain zero GMO's nor antibiotics and what's more, they require a minimal use of water, land and food to be produced. They are an extremely nutritious alternative to meat, which is both ecological and sustainable.
What products are you marketing?
Our first product is Eat Small Forest (WALD), a dry food for active adult dogs with 30% of Hermetia Illucens as a sole animal protein source. With Forest, we brought the flavors of the woodland to the dog's plate. Just in time for the renowned fair INTERZOO on domestic animals (May 8th-11th in Nurnberg) we are launching 3 lines of cold pressed treats : ENERGY with Gogi berries, MINDFULNESS with chia and bananas and SPIRIT with spirulina. The nutritional properties of those super food has been united to the one of our insects, and because of the cold pressed technique, the flavor and nutritional qualities stay 100% unchanged. They are soft and chewy and dogs are mad about it!
Are you planning to develop products for cats' nutrition?
Cats are challenging because they have different needs than dogs. They are pure carnivore and that means that they need to have special nutrients that are only found in meat and in few species of edible insects. We also have to deal with other specific aspects of their personality and feeding behaviors. To develop a real good food that would provide to cats natural nutrients (not only additives) takes time but it is on our agenda for 2019.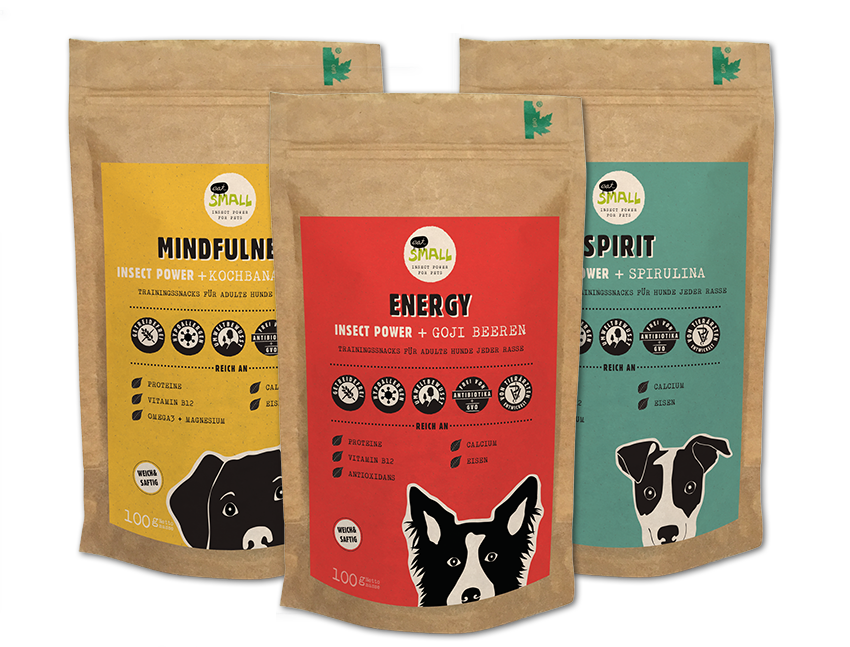 Does the owners' opinion on eating insects influences the way they choose the food for their pets?
We think it plays a role, yes. But after a study we made with 50 families with dogs living in different regions in Germany and with different interests and different social classes, we could see that people seems to be very open to the idea of insects replacing meat in their dog's diet. Actually 90% of our families answered that they liked the idea and 70% said they would buy a food made from insect (this result was divided between people who would buy it even if more expensive than their actual food and those who would buy it if it was the same price). Only 2% said that they would never buy it, although their dog really loved the food (tested for one week).
What are your plans for the next two years?
We are now entering the market, we are not known yet and the idea of eating insects (for humans or dogs) is still relatively new. We want to build for Eat Small a solid, close to us and convinced community. We want to work to educate the public to the numerous benefits of edible insects and have our delicious and nutritious products known. We are starting in Germany but we see a European network very soon… North America? Well I'm Canadian
To visit us at the INTERZOO fair: Hall 3A/P3A Stand 152e, 8- 11 May 2018 Nürnberg, Germany