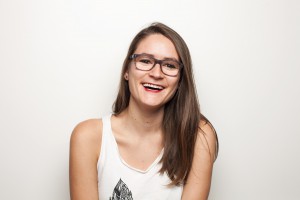 Interview with Raphaëlle Browayes, communication manager of Jimini's
Tell us about how Jimini's moved its first steps in the edible insects industry
While they were watching a famous French reality show where candidates have to eat insects alive, Bastien Rabastens and Clement Scellier, two childhood friends, got curious! They decided to taste insects, but when they finally did it, they were positively surprised and liked it. At the same time, in 2012, the FAO and other organizations started to highlight insects as the future protein and that we should start considering it in Western countries. However they noticed that European population where not ready to consume insects. That is why they decided to take up the challenge and integrate insects into our diet.
What are the products Jimini's is marketing?
5 years ago Jimini's started the company developing a range of 2 whole edible insects, seasoned and ready to eat for the aperitif. Now we have 12 flavors and 4 insects species. We also launched a range of whole insects ready to cook, meaning they are not seasoned and can be added to a risotto, pastas, burgers or salads.
Finally this year we launched a range of 2 energy bars and 2 protein bars made with cricket flour, organic dried fruits and almonds. Finally, we recently developed a range of two insect pastas.
Do you farm your own insects?
We don't farm our own insects however we source them from European farmers. In addition, we take good care about the feed information, raw material transparency and control. Also, even if we don't farm the insects we do control the production since we have our own facility near Paris, with 5 full time employees.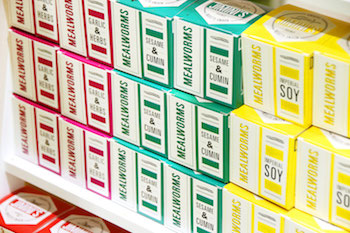 You have a very smart product in your catalogue: the Apéro Boîte. What's the idea behind?
The aperitif is a perfect moment to get started with insects since it is a friendly moment and people are ready to challenge themselves. So we thought it would be great to offer a mix of different insects and seasoning to go further into the experience. Plus we add a bottle opener and coasters to organize the perfect apéro with your friends.
What's your "best seller" product?
The Pepper&Tomato Grasshoppers and Garlic&Herb Mealworms for the whole insects, the Fig&Dark Chocolate for the bars.
What's the best communication strategy to promote insects-based products avoiding the "yuk factor"? Do you consider it a real problem for the industry?
The "yuk factor" is almost inevitable, since the consumption of insects was not part of our western habits for centuries. No matter what, whole insects or insect flour based products, people think twice before eating it. However once they tried it, they finally get more comfortable and are able to try other flavors easier. The best communication strategy is probably an uninhibited one using humor, fun and friendly moments. Actually, this is more of an obstacle than a problem for the industry. In fact, we are not used to eating bugs but people can change their habits if they see a real benefit in it. And as insects have plenty of advantages both for the nutrition and the environment, their consumption will increase over the years. It is just a matter of time and culture evolution.