If we want to describe our condition on Earth, we can say that we are "fugitives" who, as a result of the enormous population growth, no longer know where to flee – Danilo Mainardi
This is the warning found on the last pages of "L'etologia caso per caso", in which the author Danilo Mainardi compares the impact on nature of humans and of other «opportunistic species which, however, can afford to exploit the resources until there is nothing left because they are located within a natural system which includes this "destroy and flee"». The Research Group lead by Jan Zalasiewicz sets the beginning of Anthropocene (term coined by the Nobel-Prize winning Paul J. Cruzen) in the mid-20th century, corresponding to the Great Acceleration of population growth, economy, technology and humanity's impact on Earth's geology and its ecosystems. The most evident effects of human activity are the Global Climate Change and Global Warming. The results of Climate Change are now visible everywhere: changes in precipitation, water supply decreasing in arid regions, environmental migrants rate rising, zoonotic diseases emerging, shifts in species distribution worldwide, among which we can find the mycotoxigenic fungi.

Climate Change caused as a matter of fact an extension of areas with a favorable climate for the growth of these species. In the last years it was registered an alarming increasing of Aflatoxin contamination risk in South and Central Europe, due to the frequent hot and dry seasons and a dramatic shifting in Central and Northern Europe of Fusarium species in favor of F. graminearum, the main deoxynivalenol producer.
In accordance with the definition of World Health Organization (WHO) mycotoxins are «toxic compounds that are naturally produced by certain types of moulds (fungi)» such as Aspergillus flavus and Aspergillus pararasiticus (Aflatoxin A and Ochratoxin A producer) or Fusarium (that produce deoxynivalenol (DON), nivalenol (NIV) and T-2 and HT-2 toxins, zearalenone (ZEN) and fumonisins) and that «grow on numerous foodstuffs such as cereals, dried fruits, nuts and spices».
These toxic compounds impact on human and animal health and their effects can vary from acute toxicity to long term repercussions. Acute signs include for example vomiting, depression, hemorrhage and death in the case of aflatoxicosis or irritation of skin and diarrhea in trichothecenes poisoning. The long term effects instead are caused by genotoxic, carcinogenic, hepatotoxic, nephrotoxic, immunotoxic, teratogenic and estrogenic mechanisms.
Another factor not to underestimate is the economic impact of mycotoxin contamination related to yield loss, reduction of crop value (the 25% of crops worldwide are affected each year by toxigenic fungi) and decrease in animal productivity due to mycotoxin-associated health problem, in particular for monogastric and young animal, the most sensitives (rumen microbiota in fact is able to partially degrades mycotoxins).
In the article Impact of mycotoxin contamination in the animal feed industry, the authors imply that human health can be harmed not only by direct ingestion of contaminated cereal, but also via animal by-products (as meat, eggs and milk) derived from animals fed with contaminated cereal, the main ingredient of animal feed.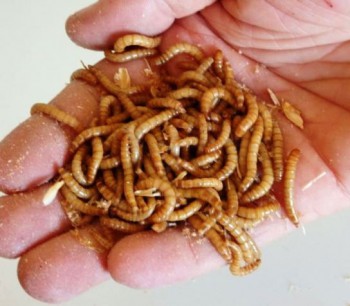 Within this context, new approaches in food and animal feed industry can be introduced. One of these is with no doubt the edible-insect way.
The insects inclusion in food and feed chain has been rising in the last years in response to the growing request of human population for animal proteins. As is well-known, conventional livestock is unable to satisfied this demand, especially considering that intensive livestock farming is no longer either ethically or ecologically sustainable whereas insects, thanks to the low water consumption, the low greenhouse gas emission and the high feed conversion, can represent a more ecological alternative. Many scientists also claim that edible-insects may be a promising strategy in the fight against mycotoxins. The studies on effects of mycotoxins on larval growth and survival show a widespread tolerance to high levels of mycotoxins, either as single dose or as mixture. Encouraging data are also published regarding the growth potential of mycotoxins in insects: species of interest, such as T. molitor, black soldier or yellow mealworm, seem to not accumulate mycotoxins or, at least, toxins uptake remains at low levels (e.g low levels of AFB1 and DON are detected in yellow mealworm and T. molitor respectively). Mycotoxins are actually detectable in residual material and its analysis suggests a specie-specific metabolic pathway that should be further investigated. Comparing, for example, residual substrates of yellow mealworm and of black soldier reared on the same substrate; only in yellow mealworm's residual a certain amount of AFM1 was found (denoting a partial AFB1 metabolism).
Starting from these findings, at the 2019 conference WMFmeetsIUPAC, Ronald Maul (National Reference Laboratory for Mycotoxins at the German Federal Institute for Risk Assessment) has presented a groundbreaking and attractive approach for "grain detoxification" that allows the insects' rearing on substrate containing grain lots with mycotoxins contents that would be dangerous for human and animals. If that were the case, and it looks like it is, edible-insects farming could provide not only an ethical and ecological solution for animal-protein demand but also a promising strategy to retain contaminated grain in food and feed chain, while maintaining food security.
Ilaria Marini
References:
1. Mainardi, D. (2002), Etologia caso per caso. Bologna. Oasi Alberto Perdisa
2. Schrögel P. and Wätjen W., Insects for Food and Feed-Safety Aspects Related to Mycotoxins and Metals, Foods (2019), 8, 288; doi:10.3390/foods8080288
3. Magnoli A. P. et al., Impact of mycotoxin contamination in the animal feed industry, Current Opinion in Food Science (2019), doi: https://doi.org/10.1016/j.cofs.2019.08.009
4. Moretti, A., et al., Mycotoxin risks under a climate change scenario in Europe, Trends in Food Science & Technology (2018), doi: 10.1016/ j.tifs.2018.03.008.
5. Maul R., Yellow mealworms are highly resistant to a aflatoxin B1 and zearalenone – a possible approach for grain 'detoxification'?, in WMFmeetsIUPAC 2019, Abstract of Lecture WMFmeetsIUPAC 1 14-16 October 2019, Belfast, Northern Ireland
6. "Mycotoxins", World Health Organization (WHO), Web. 4 Nov. 2020. https://www.who.int/news-room/fact-sheets/detail/mycotoxins.