Interview with Emilio Calligaris, co-founder of Spagrillo
Tell us briefly how you came in the edible insect business.
We're two recent graduates in "Agricultural sciences" passionate about entomophagy. We started to work on processed products a couple of years ago, in order to make the insect attractive for the European customers. On November 2015 we took part in the "startup weekend food edition", organized by LUISS University of Rome and sponsored by AIDEPI, and we won it! On that occasion we made the board of directors (consisting of CEO's from major Italian brand of pasta and snacks) try our pasta and biscuits, made with a percentage of cricket flour. Everyone loved our products, especially the pasta. From that moment we kept working facing many difficulties, as selling insects as food is still not allowed in Italy.
You are both Italians, and pasta is a ultra traditional product for Italians. Thinking about producing pasta with cricket flour, didn't you think that was a crazy idea at the beginning?
Of course! But we wouldn't have innovation without unusual ideas. Our culture and tradition have always been influenced by other cultures. Just to give an example products like tomato, potatoes and many others of "our tradition" were unknown to us till 500 years ago. It appears that even the pasta, symbol of our food tradition, was first made in China. The innovation of today will be tradition tomorrow!
However it can't be denied that the Italian market is one of the hardest to penetrate worldwide. However in the last years we've been receiving great feedback both from potential end customers and from major Italian pasta and snacks brands.That encouraged us to continue working hard on our project, especially considering the incredible opportunities that the global market can offer.
Which products are you actually selling?
We decided to focus first on "spagrilli" production (pasta with 10 % of cricket flour).The name comes from the combination of two Italian words: "Spaghetti" – one of the most known pasta size all around the word, and "grilli" – in italian meaning crickets. However we do not exclude the possibility of expanding the range of products in the next years.
Why do you think someone should be interested in eating/buying your pasta?
Well, there are lots of reasons. Pasta Spagrillo is tasty, nutritious and sustainable. So it responds to the needs of different consumers. A lot of chef and people really appreciate its taste, that's similar to that of brown pasta. As mentioned is also nutritious: Spagrillo is high in protein and low in carb. So it's perfect for sporty people and those on a diet. Last but not least its production is ecofriendly.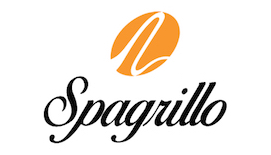 In Italy is still forbidden to produce and commercialize edible insects. What are you going to do about it?
This was obviously a big disadvantage for us. When we began to work on our pasta the product was not available on the market and nowadays there are at least 4 producers, two in France, one in Belgium and one in Thailand. Thankfully, none of their products is comparable to ours. In fact our product is homemade and created through the selection of the best raw materials and manufacturing techniques, in respect of the Italian tradition. As a result of the numerous requests that we are receiving we decided to start up a pilot in London. The English market is indeed really dynamic and innovation-friendly.
Cricket pasta is actually really expensive. What kind of clientele would you like to attract?
Currently cricket pasta is relatively expensive. That's because crickets are actually super expensive! Their cost is deeply influenced by their origin and breeding techniques. It would indeed be possible to produce a "cheap cricket pasta", giving up on cricket production quality, that would be however strongly contrasting with our vision, as we consider very high quality our strength and competitive advantage. We use to buy our crickets from the only european producer that actually owns the HACCP certification. Accordingly, our pasta results relatively expensive. We will enter the market as high quality handmade product to be sold mainly to restaurants. However, as often happens for many products, the cost is expected to go down when the production will increase (economies of scale).
What do you think about the future of entomophagy in European countries?
The future looks very promising! Customers interest and market demand are constantly increasing. If we look at the USA market for instance, that is often few ahead, entomophagy success could almost be given for sure. Of course to make this happen we will have to work hard on information, trading and education withs particular focus on the new generations.