Interview with David Gorge Gordon, The Bug Chef
Let's know about your passion for using edible insects in the kitchen: how did everything start?
I became interested in edible insects in the mid-1990s, while researching my book The Compleat Cockroach. Among other things, that book contained brief essays on cockroaches as food and as medicine. That got me started collecting reprints of articles about bug-eating in scientific journals, mostly anthropology and entomology texts. Eventually I had a thick file on the subject. I approached Ten Speed Press, the publisher of my cockroach book, with the idea of writing a bug cookbook and they went for it. The working title for the book was Best Recipes from the Eat-a-Bug Cafe. However, my editor argued that people were going to have a hard enough time believing that these were actual recipes, let alone that there was a cafe that served these dishes. Thus, the book was renamed The Eat-a-Bug Cookbook. Shortly after its publication (in March 1998), I started giving cooking demonstrations as The Bug Chef. The rest, as they say, was history.
What's the best thing someone said about your edible insects dishes?
During one of my of my cooking demonstrations, a kid told me that my signature dish, Orthopteran Orzo, was way way better than anything his mom ever made.
What's the worst?
Long ago, a reporter from a newspaper in Raleigh, North Carolina, gave my cookbook a one-word review: "Why?"…and when I appeared on Late Night with Conan O'Brien, the host of this popular TV show called me a freak.
What's the most exciting part of your job with edible insects?
When I wake up, I never know what the day will bring. And I've been fortunate to land progressively larger, more lavish assignments as The Bug Chef. To promote the animated feature film, The Boxtrolls, I was hired to help operate a food truck, serving grasshopper kabobs and waxworm quesadillas to an estimated 1,500 people at the San Diego Comic-Con. The next year, I was hired as guest chef, serving an assortment of high-end bug treats to attendees of the 111th Explorers Club Annual Dinner, held at the Academy of Natural History in New York. It was an extremely ritzy affair, and I had a bug budget of $15,000. Among the guests was astronomer Neil deGrasse Tyson, who, I'm told had many complimentary things to say about my hors d'oeuvres.
Do you think that consumers' interest around edible insects has grown in the last three years?
There's been an alarming increase in the number of bug-based businesses that have sprung up in the past four or five years. Many of these companies' founders were clearly inspired by the work of the Food and Agriculture Organization, which, in 2013, published a report extolling the environmental benefits of bug farming and consumption. And I like to think that my work, traveling throughout the US and several foreign countries over the past 18 years, has also helped inspire others to give bug-based cuisine a try.
What's the strategy to make the western consumers overcame their "yuk" factor?
A good question and one that I've devoted a lot of my energies to address in recent years. Most people in Europe, the US and Canada have an unreasonable fear of insects. They think they're gross, germy and obnoxious pests. Of course, that's not even close to the truth. If we didn't have the services of insects, our planet's biological systems would cease to function and support life. So, I believe it's extremely important to help people get over their fears and predjudices about insects and their kin. It may take a very long time before we see any measurable results, but I think this is a critical step in the Western World's acceptance of insect-derived foods.
Do you think that, chasing big volumes of production, the edible insects industry is running the risk to became a sort of "alternative meat industry" with all the related problems concerning hygiene, pollution, concentration, use of medicines, etc.?
Frankly, I don't see that as a big problema at present. I'm actually much more concerned that the current pace of production is eclipsing consumer demand. All these newly created cricket and mealworm farms would be well-advised to develop some sales and marketing strategies that are not tailored to appeal solely to people of privilege – you know, consumers who can afford to spend $4 on a cricket energy bar or $6 for a small bag of cricket flourchips.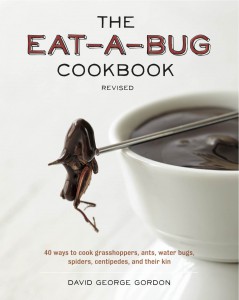 What are your new projects for the future?
When I'm not giving cooking demonstrations at museums, bug fairs and events, I'm working on a new suite of recipes that focus on bugs and their host plants. In in my cookbook, I tried that approach with the recipe for Fried Green Tomato Hornworms, which paired the caterpillars with the plants they eat. I've got a large list of pairings right now, but I need to set aside more time for playing in my kitchen. I'm also in the early stages of writing a bug cookbook for kids, who I believe are the real innovators and, given the proper encouragement, will become adopters of environmentally friendly alternatives that will make our world a better place.
What will entomophagy be in the western world in the next ten years?
I've tried to peer into my crystal ball and get an answer to this question. As you know, predicting food trends is surprisingly difficult. In the 1950s, who knew there would be a market for kale chips one day? Or that "chipotle" would become such a household word. Right now, edible insects are considered a novelty food at best. Ten years from now, if we play our cards right, they may be no more novel than a vegetarian burger, which I can now buy at my neighborhood grocery store or greasy spoon restaurant.
Clearly, I'm not much of a fortune-teller. But I can tell you this: to shape the bug-eating future of our planet, we'll need to draw on our collective diligence, imagination and willingness to take risks. I applaud all of you who've already taken the first steps in this exciting adventure.