Interview with Gabi Lewis, cofounder of EXO
How and when did you have the idea to run an edible insects business?
Greg, my co-founder, and I had met while we were studying at Brown University. He had just come back from a conference hosted by MIT and the Dalai Lama on climate change and resource scarcity, where it was suggested that insects could be a protein source to feed a growing population. I was a bit of a health and fitness nut, and saw the potential of this hugely nutritious but untapped food group. So we started thinking about how to introduce it into people's diets and came up with the idea of bars as an introductory vehicle, launching with a Kickstarter campaign as proof-of-concept in 2013.
Why bars?
When you look at other "strange" foods that have crossed the chasm into mainstream -sushi, for example- you see that there was always some kind of introductory vehicle that eased consumers into that new food. In sushi's case, it was the California Roll which hid the raw fish inside rice and seaweed and then paved the way for sashimi and other more straightforward formats. We chose bars as our California Roll because people associate them with their functional benefits and it's easy to incorporate a cricket protein powder in a safe and familiar way.
Why crickets?
We dove into the psychology of taste and disgust pretty deeply and leaned that crickets were truly the "gateway bug": it's much easier to overcome the psychological challenge of eating a cricket compared to other insects. Additionally, they're relatively easy to farm compared to other bugs and high in protein and healthy fats.
Do you think not showing insects "as they are" is the best strategy to motivate their acceptance by the western consumers?
There are definitely challenges involved with insects as an ingredient, and there are lots of challenges around disgust that Western consumers still have as it's a relatively new food source. We just wanted to make it as easy as possible for Western consumers to try insects, and found that people are generally positive to the concept of 'cricket flour'. More generally, you wouldn't expect to see a picture of a cow when eating a burger, so why see a picture of a cricket when trying a cricket bar?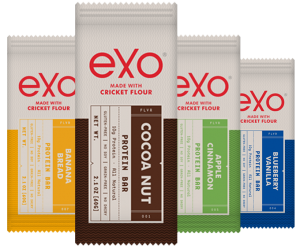 Where do you get your insects from?
We source them from farms in the US and Canada, where they are fed certified organic non-GMO ingredients.
Is the edible insects sector strong enough to say that its development is unstoppable?
We think so! Edible insects just makes so much sense from a sustainability and nutritional standpoint and there has definitely been a wave of companies that are starting and growing to meet the increasing demand. We've seen such overwhelming support from our investors and customers, and as bugs continue to seep into the mainstream diet it'll just be easier and easier for the insect sector to thrive.
What do you think about the european market?
We're excited to expand into Europe (especially because I'm from Scotland) but we're also conscious not to get distracted so for now we're pretty focused on the US market, and have lots of room to grow there.
You had a successful fund-raising compaign, what can you suggest to other entrepreneurs of the industry that want to find investors?
Kickstarter was a great tool for us to test customer demand – it was a great proof point for us to beat our goal in a matter of days, and it gave us the confidence and proof to bring our company to more traditional investors. Good advice we've been given is: when you want money, ask for advice; when you want advice, ask for money.