Interview with Sèlim El Amouri, Marketing&Communication Norfeed
Can you tell us the story of the company?
The Nor-Feed concept was born in Denmark, at the end of the 80's, with the vision that synthetic growth promoters used in animal nutrition would be questioned in the future and efficient alternatives would then have to be offered to breeders and nutritionists.
Nor-Feed was established in France in 2003, in the heart of Anjou, the medicinal plant production area.
Our portfolio consists of 4 product-ranges: Nor-Grape® (grape extract), Citrozest® (citrus extract), Norponin® (saponin-containing plants) and Specialties ("in-feed" natural solutions).
Our company is present in more than 30 countries, and develops its network through several distribution partnerships as well as joint ventures supported by Nor-Feed Holding.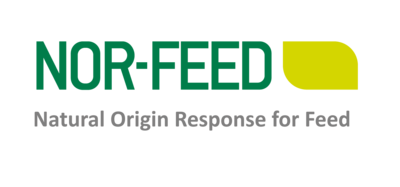 Can you describe the quality-goals you want to reach in the composition of your different feeds?
Our botanical extracts are consistent, documented and trusted. This is not only our claim, it is also what better defines our quality system!
Consistent because our products are standardized and with a guaranteed composition and guaranteed activity;
Documented because the mode of action of our products and their benefits are well explained and illustrated by our R&D.
And trusted because the key players of the industry, who have been already working with us since several years now, need to rely on our solutions.
Proteins are a crucial ingredient in the animal feed, do you think we need to find alternative sources to soy, for example?
The use of soy (mainly imported) comes with economical and environmental constraints. Soy is difficult to replace and some countries promote other legumes, such as alfalfa.
From our point of view and experience, saponin-containing plans represent an alternative too, as their active compounds are able to optimize the use of proteins and energy.
Nor-Feed has a whole range of products based on saponins, called Norponin®.

Edible insects in the animal feed are gaining market, what's your opinion about this ingredient?
Just like plant extracts, edible insects are probably a good answer to offer sustainable nutrition and health solutions. It certainly drags attention, and significant R&D efforts to gain a share in the market.
Edible insects could be reared on vegetables/plants substrates. Could they be the "circle-closing" in your production in the future?
Nor-Feed develops its additives mainly with secondary metabolites, that cannot suffice to feed animals or insects but will play a key role in balancing it.
Could the alternative feed ingredients industry be a relevant part of the solution to the environmental problems driven by the intensive livestock's breeding?
Absolutely. That is what drives our company and our business!
From field to feed, the development of our products is part of a virtuous logic that includes:
The valuation of agriculture and industrial coproducts;
The reduction of the antibiotics use in livestock;
The reduction of the environmental impact of livestock (less methane and best food efficiency that reduces the polluting emissions);
A number of our products improve the digestion of feed and assimilation of nutrients, thus reducing the non-digested, non-assimilated part, i.e. the effluents.
This is true for methane and ammonia in particular.