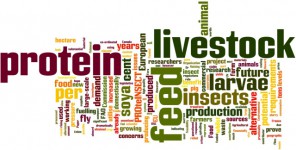 Currently more than 80% of the protein requirements for livestock rearing in the European Union is imported from non-EU countries. The European Parliament has adopted a resolution to address the EU's protein deficit, stating that urgent action is needed to replace imported protein crops with alternative European sources.
One potential source to alleviate this current protein deficit is fly larvae. As a natural component of the diets of fish, chicken and pigs, fly larvae provide a rich source of highly digestible protein.
PROteINSECT will focus on five key areas in order to evaluate insects as a novel source of protein for animal feed and to ensure that methodologies are sustainable and economically viable:
– development and optimization of fly larvae production methods for use in both developed and developing countries at small and large scale.
– determination of safety and quality criteria for insect protein products;
– evaluation of processing methodologies and the evaluation of crude and refined insect protein extracts in fish, chicken and pig feeding trials;
– determination of the optimal design of insect-based animal feed production systems utilising the results of a comprehensive life cycle analysis;
– a pro-insect platform building in Europe to encourage adoption of sustainable production technologies to include examination of the regulatory framework.
The project has 12 partners from 7 countries and is co-ordinated by the Food and Environmental Research Agency (FERA) in the United Kingdom. The initiative is co-financed by the EU.